Fair Trade Conservatory Furniture For Style & Storage
The Fair Trade Furniture Company's mission is to create feel good furniture from sustainable materials. Choosing furniture can be difficult, but if you're looking for something unique from an environmentally conscious company, you've come to the right place! 
We are World Fair Trade Organisation Guaranteed, having been members since 2012 and receiving their guarantee in November 2016, this shows our steadfast commitment to using business as a force for good. 
The owners of The Fair Trade Furniture Company have a long standing connection to Fair Trade and established the idea of Fair Trade Furniture as a way of bringing Fair Trade into another sector of consumerism. Not only was this idea special because of the ability to showcase craftsmanship from developing economies, but it proffered something more important: productivity.  
By embracing a new business idea and establishing connections with producers of hand woven materials in Java, Indonesia's most heavily populated island, the Fair Trade Furniture Company created change. 
Combining Aesthetics and Storage Solutions
Each range of conservatory furniture that we offer has its own story. Designed with ultimate comfort in mind, our sustainably crafted furniture ranges each combine function and the beauty of nature, resulting in durable, artistic, seating and storage products ready for you to enjoy all year round.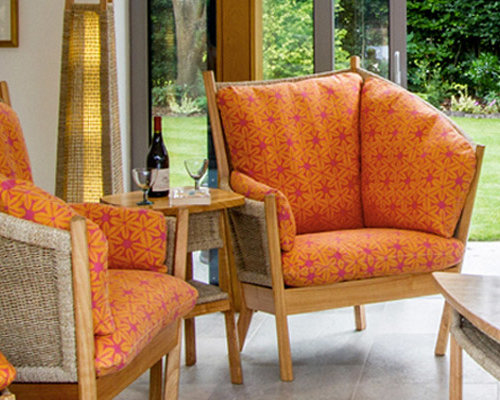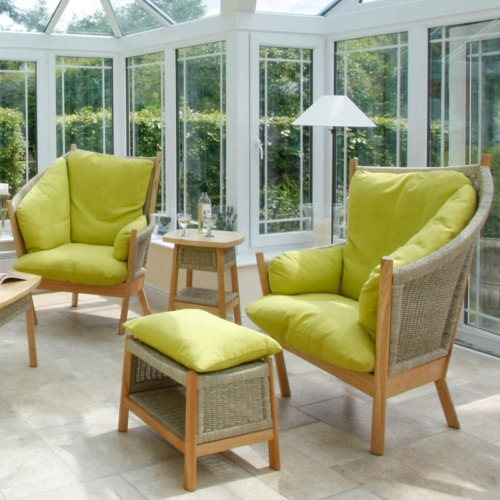 Semarang – Fair Trade Furniture Flagship Range
The Fair Trade Furniture Company takes pride in the Semarang as our leading range of bespoke furniture. Our Production partners PKT are responsible for the construction of this range which takes place in North Java. There are many products in this range that provide storage solutions in a stunning way. 
With small side tables like the Semarang Triangular Table and the Semarang Table available you can create the look you desire. Our Semarang Table is a very popular choice because of its beautifully hand woven seagrass shelf.
Larger storage products in our Semarang range include the Semarang Cabinet; a mid height cabinet constructed of locally sourced Mindi Wood and woven seagrass panels with an all purpose top. 
There is also the Semarang Shelving Planter Unit which perfectly combines usability with amazing natural aesthetics. Our planter unit is multi purpose with a Mindi wood frame and shelves, beautiful woven panels used to create the cabinet space at the bottom, and the planter space at the top of the unit.
These items enhance your living space and offer a sense of pride to you as the owner of unique Fair Trade Furniture.
Jogya – Fair Trade Furniture With a Strange Bold Design
The Jogya range encompasses comfort and versatility with its asymmetrical designs. Whether you're furnishing a small summer house or a large garden room you will be sure to achieve the perfect seating arrangement and meet your storage needs with these brilliantly crafted items.
The items perfected for storage in this range include the Jogya Footstool, Jogya Side Table, and Jogya Coffee Table. The items combine the use of Rattan poles, finely peeled rattan for the wickerwork and FSC Certified Mahogany.
There are storage benefits to each of these incredible items. The footstool offers a comfortable place to elevate your feet as well as a storage shelf below to keep items on hand.
Our side table in this collection is the perfect size for use in a small summer house or as part of a larger set. This superb table consists of two shelves and a tabletop made from FSC Certified Mahogany. 
Finally, we have the truly beautiful Coffee Table. This product is the perfect height to be positioned in front of our Jogya Sofa or Jogya Chairs. We're excited to offer this product with the option of an FSC Certified Mahogany top or a 6mm Toughened and Bevel Edged Glass top sourced locally in the UK.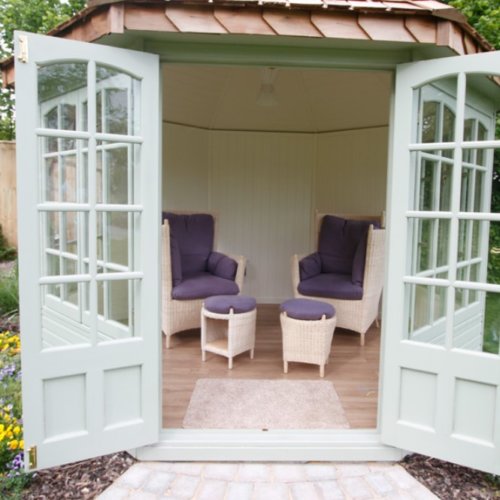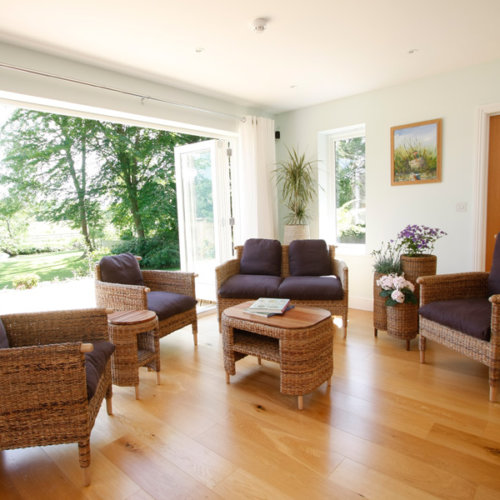 Bantul – Neat and Petit Fair Trade Furniture
Last, but by no means least, we have the Bantul collection. This range is a homage to the local producers we work with in Java. With its compact style and versatile nature, the Bantul creates a striking statement. These items are crafted from Banana Fibre creating a distinctive, eye catching aesthetic. 
Without a doubt, this collection is sure to be a focal point in any room. Its neatly designed wickerwork displays some of the best work from our production partners in Java, which ultimately shows that sometimes it's smaller things that hold the most beauty; much like the island of Java. 
The storage offerings in this range follow suit in space saving nature. There is the Bantul Side Table and the Bantul Coffee Table. Both of these gorgeous tables benefit from a handcrafted Banana Fibre Shelf beneath the table top to allow for the storage of necessary items without creating a cluttered surface.
The Best Fair Trade Furniture Solution For Your Home
We have partnered with two producers in Java to bring to life the unique designs of our collections: 
Pondok Kayu Tropis have their carpentry factory 45 minutes west of the major port of Semarang on the North coast, and they work with us directly. 
INORI is an Intermediate Marketing Organisation based in the wonderful city of Yogyakarta near the South coast. They coordinate the activities of 4 specialist workshops on our behalf.
Our incredible collection of Conservatory furniture has enabled our company to receive World Fair Trade Organisation Guarantee and continues to provide the people within our production teams a fair wage, a great working environment, and more opportunities while minimising our impact on the planet.
To get in touch with our friendly and knowledgeable team, use our online contact form. We will get back to you straight away. Alternatively, book an appointment at our Dorset showroom to see our products in the flesh.