Contemporary Furniture for L-Shaped Conservatories
At Fair Trade Furniture, we sell many different types of furniture that are suitable for a garden room. The range of furniture includes Semarang, Bantul, and Jogya, which all offer durability, style, and comfort in your property.
But you might be wondering if the furniture can be used in your living room. Our selection of furniture is versatile, so in this article, we will explain how you can bridge the gap between outdoors and indoors.
Create Your Perfect Space
Are you looking to transform your L-shaped conservatory into a stunning retreat that exudes style and comfort? Say hello to the exquisite Jepara range of contemporary furniture by Fair Trade Furniture.
Designed with a modular approach, our Jepara range offers luxurious and flexible seating options, allowing you to create your perfect space while making the most of breathtaking views.
Get ready to elevate your conservatory experience as we delve into the features and benefits of the Jepara range, tailored specifically for L-shaped conservatories!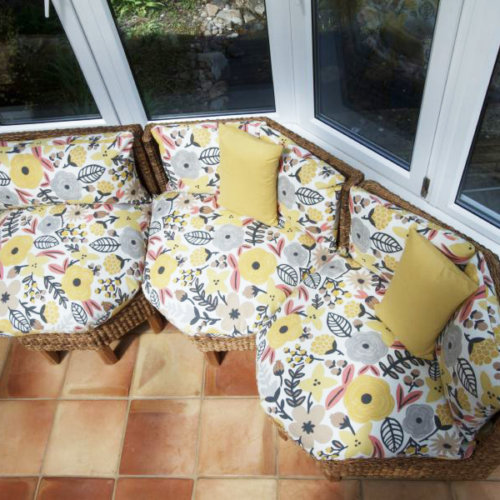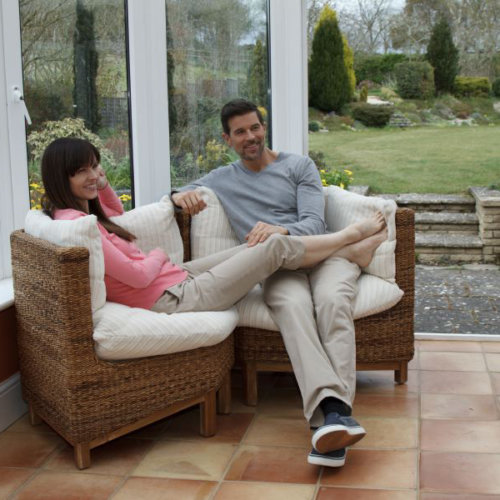 Flexibility & Style Combined
The Low Jepara range from Fair Trade Furniture is designed to provide maximum flexibility and style for your L-shaped conservatory. With its contemporary design and modular structure, this range seamlessly blends luxury and functionality. Whether you have a traditional conservatory, a modern garden-room, or an octagonal summerhouse, the Jepara range is the perfect choice.
Corner Chairs, Middle Chairs & More
The Jepara range offers four clever modular products to create a wealth of seating possibilities. The corner chair is versatile and can be placed against a wall or neatly fit into corners. Two corner chairs pushed together create a cozy two-seater sofa, perfect for intimate conversations.
For L-shaped seating arrangements, the corner sofa unit serves as an excellent base, ensuring comfortable seating without compromising the overall design. The hexagonal chair is specifically designed to fit snugly into windows or spaces with walls meeting at a 135° angle. The middle chair completes the kit, allowing you to customize your seating configuration to suit your preferences.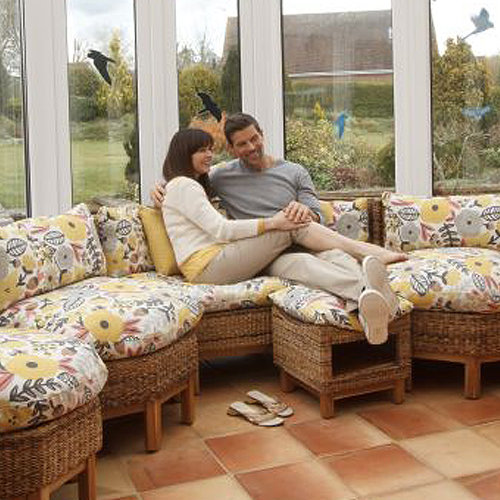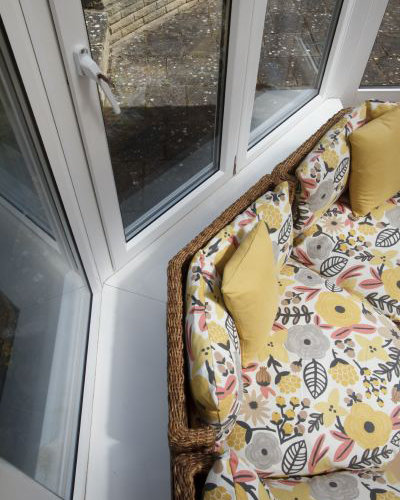 The Jepara range's modular design allows you to tailor it to fit your specific space and room shape. Whether you have conservatory bay windows with 135° angles or an octagonal summerhouse, the Jepara range effortlessly adapts to your needs. Unlike many other modular suites, the Jepara range ensures that even the corner seat is comfortable and provides ample legroom.
To enhance your Jepara furniture set, Fair Trade Furniture offers a range of matching accessories. These include a side table, a footstool with cushion, and an octagonal coffee table with a removable shelf. The coffee table can also be supplied with a fitted cushion, allowing it to double as a generous pouffe. These accessories not only add functionality but also complement the overall aesthetic of your conservatory.
The Jepara range offers eight products that can be combined to create a wealth of modular possibilities. For added convenience, Fair Trade Furniture provides two popular set options. The 4-piece set is ideal for couples and can fit into smaller spaces effortlessly.
If you have an L-shaped space and require ample seating, the large 6-seater set offers great flexibility. Additionally, you can customize your set by adding tables, stools, or any other accessories that suit your taste and requirements.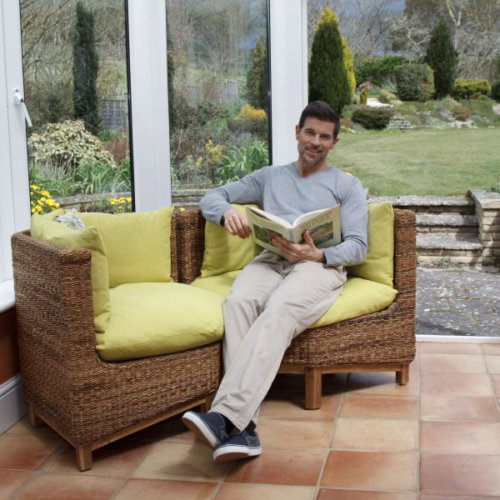 Jepara Furniture for L-Shaped Conservatories
Now that you've read all about our range, it's time to take the next step in creating your dream conservatory space. Ask yourself, how can the Jepara furniture range enhance your L-shaped conservatory? Are you ready to embrace the contemporary design, modular flexibility, and luxurious seating options it offers? Just imagine the joy of lounging on the perfectly tailored furniture, soaking in the beauty of your surroundings.
So, don't settle for ordinary when you can have extraordinary. With the Jepara range by Fair Trade Furniture, you have the power to transform your conservatory into a place that reflects your style and caters to your comfort.
Why wait? Explore the possibilities,contact us today and choose the perfect combination that will let your L-shaped conservatory come alive with the elegance and flexibility of the Jepara furniture range. Your dream space awaits!