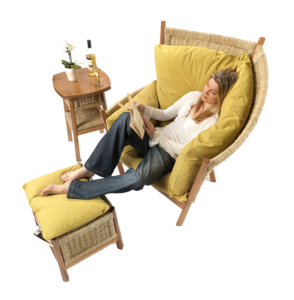 Our Semarang range of conservatory chairs feature an interesting asymmetrical design: one side is high, the other low.
The high side provides a cosy corner for you to snuggle into, while the low side is the perfect height for reaching your favourite book. The Semarang range is perfect for relaxing in conservatory and garden rooms, view our feel good furniture section to find out more about our range of conservatory chairs and furniture.
The Semarang range of conservatory furniture is built by our Fairtrade partners in Indonesia, the conservatory chair legs and seat frame are made from Mindi, a local Indonesian wood. All the panels are woven in seagrass onto Mindi frames with meticulous care and attention to detail. Feather cushions for luxury and comfort. The seat has a core of foam sandwiched between layers of down and feather to make the cushion more supportive and resilient.
Learn more about our conservatory chairs
Our range of chairs provide the perfect cocooning and supportive space to relax, that's why our furniture has come to be known as "feel good furniture". To find out more about what makes our furniture so special please visit the ranges section.