Trendy Fabrics for Conservatory Furniture
It isn't always easy to keep up with the latest trends, whether it's clothes, furniture or anything at all, really! We all want our homes to look the best they can, so making sure you know what the most popular patterns and fabrics are is important to keep your finger on the pulse and be the envy of any and all visitors you welcome in. 
Here at Fair Trade Furniture, our stylish and comfy chairs, sofas and much more are available in a wide range of fabric options, so there's sure to be a great fit for you and your home – no matter what the trends are at the moment. 
In this handy guide, we'll take you through some of the trendy fabrics for conservatory furniture and talk you through our offerings so you can decide what's best for your home. Visit our online shop to see each piece of conservatory, summerhouse and garden room furniture in a multitude of fabric options with our innovative swatch switcher. And when you're ready to find out more, why not give us a call or arrange a visit to our stunning showroom to see and try the pieces in situ.
Sometimes, simplicity is the order of the day. Plain and semi-plain fabrics will always be some of the trendiest because there's very little about them to fall out of fashion or favour with homeowners and designers alike. Whether you're looking to make a splash with brighter hues like green, blue and yellow, or you're after something more muted like greys and browns, you can't go far wrong. 
There's something timeless about plain and semi-plain fabrics that make them some of the most popular. While they may not be the most brand-new, and so perhaps that doesn't quite qualify them as "trendy", their enduring popularity makes them a sound investment. If you take a look around our website, you'll likely notice how many of our chairs and sofas are shown off with these more plain fabrics. Shades like basil and lime allow the furniture itself to take the limelight which makes them perfect for our distinctive, eye-catchingly designed chairs.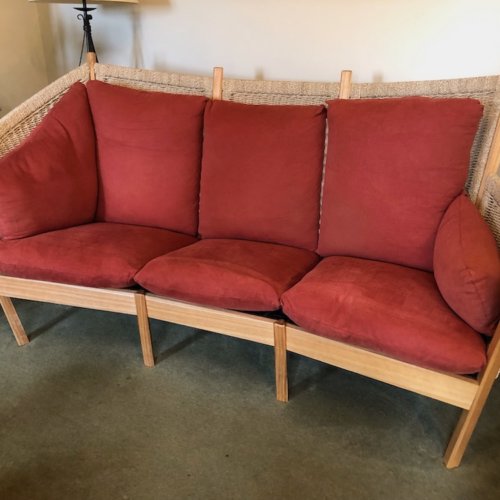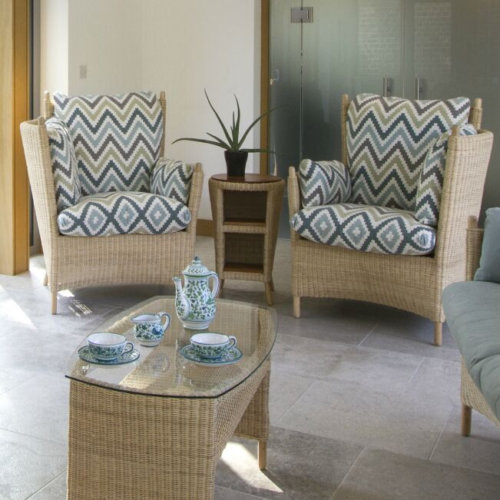 If you're after something a little bolder, you'll want to take a look at trendy patterned fabrics. Some of the most popular options at the moment are subtle floral prints (like our Dandelion fabric) as these offer a charming, traditional quality, which many of us are looking for in our homes at the moment. For slightly more stand-out options, you can consider jig-jaz or spiral prints that really draw the eye. 
The detailing on the patterned fabrics that we offer are incredible, making them some of the trendiest conservatory furniture around. This, coupled with the stunning designs, makes our Fair Trade sofas and chairs a cut above the rest. On our Fabrics page, you can see floral, spiral, jig-zag and scenery prints available, and in our online shop you can view these on the pieces themselves. Find the right pattern to express your personality and suit your space. 
Leather and luxuriousness have always traditionally gone hand-in-hand, and it's no different when it comes to conservatory furniture. Sometimes a classic leather chair is exactly what you need to make a space look and feel how you want it. The distinctive look and feel of leather furniture makes it a trendy choice, and this popularity looks set to continue for many years to come. 
In our offerings, we have two leather options – Mustang and Latte. In line with our company values, Mustang leather is eco-friendly and recycled, helping you to relax in even more comfort with this knowledge. If you want to get a feel for our leather fabrics – or any of those that we've discussed today – you can request your free swatch by visiting our Fabrics page. Often, the best way to decide is to see and feel it up close, so we're happy to help!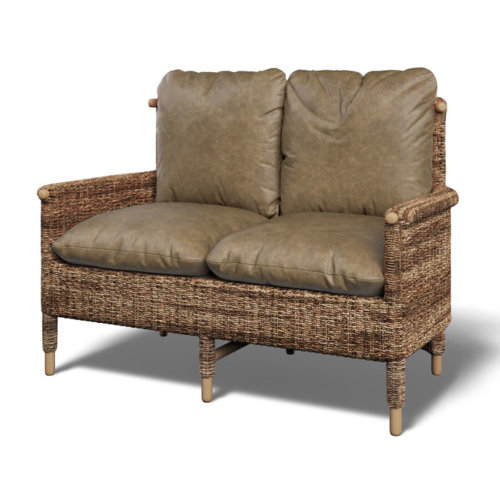 Trendy Conservatory Furniture Fabrics
There are countless options to consider when choosing the trendiest and best fabric for your conservatory, summerhouse or garden room furniture. So here at Fair Trade Furniture, we've done lots of the hard work for you. Our offering features some of the most popular options, so you'll know that you're already choosing an enduringly popular fabric when you shop with us. 
Visit our Fabrics page to see more, and explore our online Shop to see how these fabrics look on the chairs and sofas themselves. This will give you a great feel for the aesthetic and let you compare quickly and easily. If you need more information or guidance on the most trendy conservatory furniture fabrics at the moment, we welcome you to contact us online, by phone, or by arranging a visit to our gorgeous home showroom to sit on our chairs in situ.
We've got some of the most popular chair fabrics ready to try, and the full range of swatches on-hand for you to feel up close.