Luxury Conservatory Furniture
Here you can read about why our range of luxury conservatory furniture has come to be known as "feel good" furniture. Each of the 6 sections highlight features and benefits of purchasing our luxury conservatory furniture including comfort, Fair Trade ethics and a long list of comments from very satisfied customers.
1. What is

Feelgood furniture
Good for body, mind and spirit.
We asked our Swedish designer to create a range of distinctive chairs which would feel good in every sense of that phrase: nice looking, really comfortable, produced on a fair trade basis, using natural materials that can be sustainably sourced. Find out more here…
6 ranges each with their own personality. Semarang and Jogya both feature an asymmetrical chair concept, high on one side to create a cosy corner. Jepara is our low-backed modular range, Kartosuro an under-stated modern classic, and Bantul, our neat and petite range.
There is no substitute for trying out our furniture in person. There are three main ways you can do this…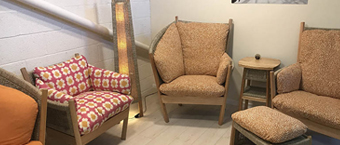 Our showroom in Dorset has the full collection on display. We are generally open 5 days a week and can open up most weekends, but either way we ask that you make an appointment. Visit Showroom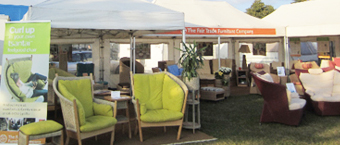 We go to over 15 shows each year, in the period between March and October. These shows cover the length and breadth of England, and offer a lovely day out in some beautiful parts of the country. Visit Shows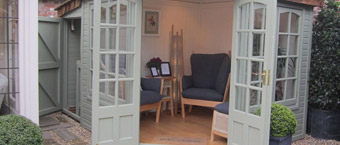 We are stocked by a few discerning retailers and have other display partners where you can see some of our ranges all year-round. For the latest list and their locations check here… Visit our partners
Some of our Fair Trade Furniture success stories.
Don't take our word for it. Read what several of our customers have to say about the experience of choosing and buying our furniture, and see photos of how the furniture has transformed a number of very different spaces.
We commissioned our Swedish designer to create a range of luxurious conservatory furniture, including distinctive chairs that would feel good in every sense of the word.
We are delighted with the results. His designs showcase the natural materials in stylish and ergonomic forms that offer you the benefits of luxury conservatory furniture with which you can create a perfect environment to relax and unwind.
Fabric options
A wealth of possibilities waiting for you to explore…
We have developed a selection of fabrics which we think suits the character of our ranges, and provides you with the opportunity to tailor the furniture to your preferred style and colour scheme.
There are four fabric collections to choose from, two at our standard price point, two with a price supplement. Between those 4 collections, we estimate there are well over 1000 possibilities for you to choose from!
But if you struggle with too much choice, we can recommend a short-list of options for each range which we know work beautifully with those designs. You can see these recommendations in the individual product pages of the Shop section.
Meet the people who create these wonderful pieces of furniture.
One of the many beautiful things about our business model is that the chain between you the consumer and the person who makes our products is very short indeed. You buy from us – we buy from Deddy and Tri – and these guys work for either Deddy or Tri. In a complex global world, THAT is a short supply chain! And it means you get a real idea of exactly who has been involved in making your products. Find out more here…