Staggering natural wealth and beauty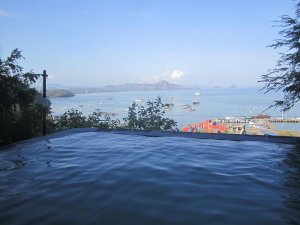 I have had the chance to see three quite different islands from the Indonesian archipelago during this visit: Java, Bali and Flores. What a wonderful variety of landscape, architecture and culture they have presented. Fabulous!
Flores is the least well known, and much the quietest of these 3 islands, but beautiful beyond compare.
Lush hillsides, covered in forests of bamboo, macadamia, and many other tree species; dramatic volcanic mountains, some still active, with crested hillsides falling away from them, often covered in cultivated terraces; rice paddy fields in the plains, but also in the most surprising and inventive spaces – quite incredible use of terracing skills. And all so richly verdant – 50 shades of green (or more)! See photo gallery below for further examples of Flores beauty…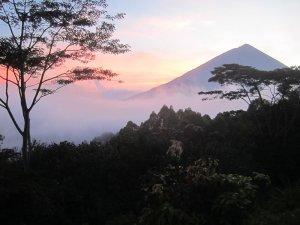 Bali suffers from being Indonesia's most well-known and highly visited tourist destination, but we still found attractive places to enjoy. The beach areas are over-run with surfing dudes and holiday-makers from Australia, Asia and Europe, but the hinterland is much more charming, with mountains, lakes and rivers in the middle.
We explored the area outside Ubud on mountain bikes (admittedly a guided tour), and were delighted by the countryside, the villages, and a very beautiful river gorge (shown left).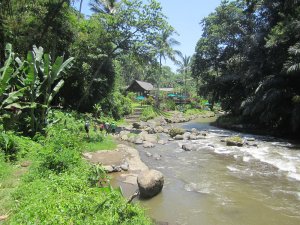 Despite its massive population, Java is also full of amazing scenery. I have now been driven from North to South of the island (and back) several times, and the diversity of crops, bushes, trees and flowers is amazing. From the classic tropical fruits, herbs and spices, through citrus and tomatoes, up to strawberries, cabbages, carrots and lettuces in the upland areas!
Wherever you go, you see the locals drying their crops on tarpaulins by the side of the road: rice, coffee beans, cloves, peppers, chillies to name but a few. Even in town, you see great sheets of rice drying by the road-side.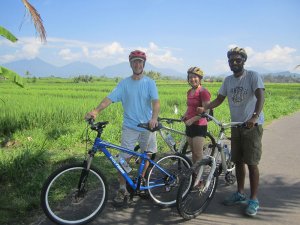 There is not much evidence of Big Agriculture here: compared to what we are used to in Europe, it's very small scale and family-based, and provides livelihoods for a huge number of people.
With all this natural wealth on offer, it's perhaps little wonder that the Portuguese, British and Dutch fought each other, and the locals, to gain control over these islands. The Dutch came out on top, and shaped and squeezed the country to their advantage for centuries. But what a terrible travesty of natural justice that was.
Thank God for independence. It's been a long, hard-fought and painful battle for the Indonesian people to take back control of their own resources, economy and destiny. It's also less than 20 years since a proper democracy was established… but they have a good and popular President in place, with a clear focus on anti-corruption, and economic growth. I very much hope they can find sustainable ways to convert this abundant natural wealth into better livelihoods for the majority.