Conservatory Upgrade Ideas
Over the years we've seen many a conservatory that is in dire need of a refresh. It happens all too easily: You want a brand new space for you and the family to enjoy, but soon it becomes just another room in the house, full of things you don't have space for elsewhere; not to mention the common trope that conservatories are too hot in summer and too cold in winter, giving you a narrow window in which to enjoy them.
If this is the case, all is not lost. It simply means that your conservatory needs a little TLC to get it back to its full potential, full of possibilities like it once was, rather than being full of clutter. Here at Fair Trade Furniture, we specialise in eye catching, ethical and most importantly comfortable furniture for garden rooms, summerhouses and conservatories.
The best conservatory furniture is one element of a conservatory renovation that can allow you to start enjoying your extra space once more. In this handy guide, we've put together some of the most beneficial conservatory upgrade ideas for all homes, tastes and budgets. If you're planning a renovation of your extra space, speak to our friendly team about how our furniture can be an excellent addition to your project.
Energy Efficiency & Insulation
There's a common belief among many that conservatories get far too hot and far too cold throughout the seasons, with very little middle ground in between. While that isn't true of all, it is the case for many. So what can you do about it? If you're looking to spend time and money renovating your conservatory, you want to get the most use out of it. That's why one of the first things you should look into are energy efficient solutions such as insulations.
The large glazed areas of a conservatory make them ideal for you to be able to enjoy stunning, sweeping views of your garden from the warmth and comfort of indoors. But they also allow that much-needed (and increasingly expensive) heat to escape, leaving your living space cold and your energy bills soaring as your bank account shivers in despair and disbelief.
To solve this, you might want to consider upgrading your windows and doors with double glazing. This stops heat from escaping and traps cold air outside. Similarly, you might want to look into insulating the walls of your conservatory to make sure they achieve the same results. With improved energy efficiency, you'll be warmer and cosier in your space, and you'll save money on your bills – to be able to carry out the other parts of your upgrade.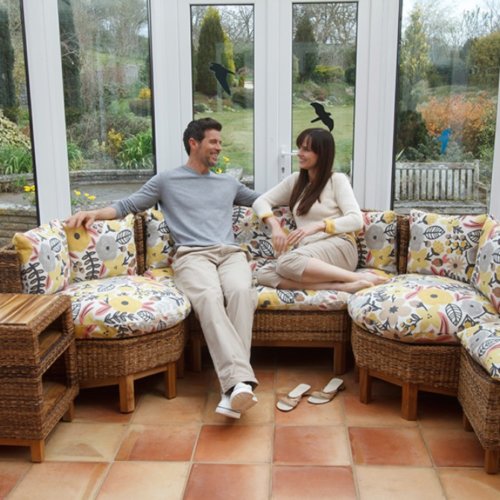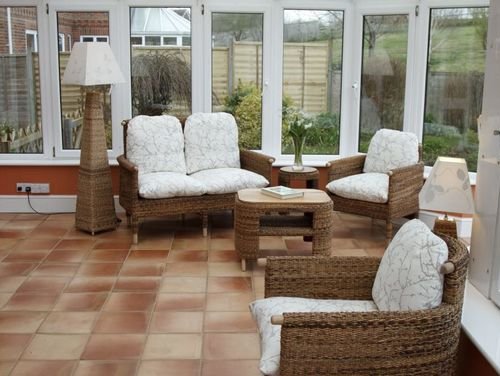 There are so many different ways to use a conservatory. A popular one is, of course, to create a space that works as an additional living room, with beautiful views of your garden while you relax inside. But you could open up your space to more possibilities and think outside the box to use your expanded living space in lots of different ways.
The last few years have seen a surge in people working from home (not always by choice!) and this has led to a rise in home offices. While many people sit with their laptops in the lounge or a half-decorated spare room, why not open up your mind with inspiring views and fresh air to help your productivity? A renovated conservatory makes an excellent home office space. You'll just need somewhere comfy to sit, and the expansive views will free your mind and allow you to work in peace and comfort.
Other popular choices for how to use a conservatory include a games room, a children's playroom, a home gym or even a bedroom. What place to lie back and relax, and look up at the stars through a gorgeous glazed roof (once you've got the insulation sorted, anyway). But enduringly, even with upgrading and renovating a conservatory, the most popular way to use one is as a living room. And for that, you're going to need some comfy furniture…
No matter how you want to use your conservatory, you'll want to sit back and relax in total comfort and peace of mind. That's what makes our products here at Fair Trade Furniture the perfect choice. Our ethical, stylish and comfortable chairs and sofas are available in some of the latest and most popular fabric styles, so we're sure to have the right fit for your home.
Our chairs are available in a distinct asymmetrical feelgood style, with one side higher than the other. This means you can snuggle into one side of the chair, while the other provides easy and convenient access to whatever you need to reach for – be it your tablet computer, drink or snack, or your favourite book. Our furniture accommodates you and your needs, making our pieces the ideal upgrade to your current conservatory as part of your renovation.
We hope these conservatory renovation ideas will give you food for thought when it comes to upgrading your space. Whether you're giving it a complete overhaul or a little refresh to give it a new lease of life, our Fair Trade conservatory furniture is an excellent choice. Browse our online shop to see our full range products, and if you would like to discuss your preferences, you're welcome to contact our friendly team and arrange a visit to our showroom.