Conservatory Storage Solutions
Many of us know all too well how easy it is for conservatories to become just another room to fill with your belongings. What may have initially been envisioned as a beautiful, relaxing, inspirational space to relax, dine and unwind can easily become full of stuff. So what's the solution? 
You'll naturally want to have plenty of things in your conservatory to allow you to enjoy it even more, be it drinks to relax with, books to help you unwind, toys for the children or grandchildren, and whatever else you may want within easy reach. So you've undoubtedly already looked into some possible conservatory storage solutions. Or if not, you might want to now. 
Perhaps you've looked into how to maximise your space without giving up too much furniture. The dilemma of furniture vs storage can be a tricky one. But what if we told you there was another option? That's right – conservatory furniture as storage. Here at Fair Trade Furniture, our innovative conservatory storage solutions are exactly what you need. 
Footstools, Side Tables & More
As part of our flagship Semarang range, our innovative footstool is an exceptional design and truly game-changing choice for your conservatory, summerhouse or garden room. Our products are the result of Scandinavian design and precision-engineering – and it really shows. The classic footstool features a nifty shelf beneath the cushioned top, which makes it the ideal place to store your favourite books or magazines within reach, without taking up any space. 
If you need to save space with the furniture itself, our Semarang Low Footstool is cleverly adjustable. Small and compact, it can easily sit beneath your Semarang conservatory chair to slide out of view until you need it – and then it's right there when you want to put your feet up in peace. 
For other conservatory space-saving storage solutions, take a look at some of the other furniture and room decor that we offer. Our Semarang Cabinet and Shelving Planter Units are perfectly in keeping with the theme of the collection while also offering an amazing outlet to store your possessions away neatly. From books and magazines to drinks and snacks – save space with our stylish conservatory storage solutions.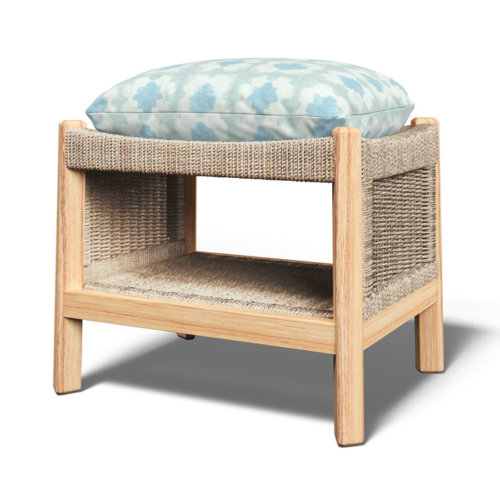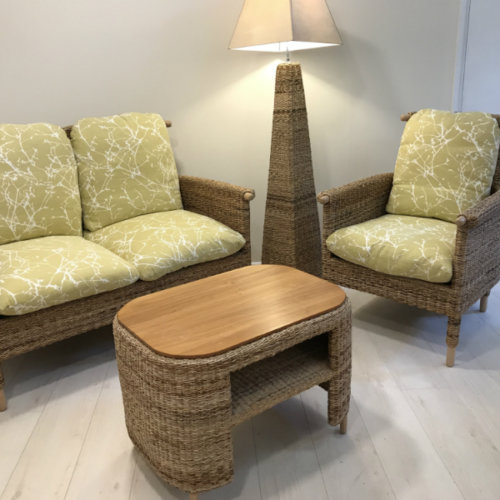 Complementary Conservatory Furniture
"Fair Trade" is at the heart of our processes and our products. Our manufacturing partners across the world help us to create stylish, comfy and innovative furniture that truly fills a gap in all kinds of conservatories, summerhouses and garden rooms – to make a house a home. 
If you're looking for conservatory storage solutions, you'll want something that fits the look and feel of the rest of your space; you won't just want a simple box that doesn't suit the room. That's why our furniture is ideal. Not only are our footstools and planters functional for their own purpose – but they're also highly versatile as storage options. What's better than a footstool? Well, a footstool that doubles as a storage solution, of course! 
Complement the look and feel of your conservatory with furniture that enhances the overall aesthetic. For furniture that's as stylish as it is practical, take a look at our core ranges – Semarang, which we've talked about so far, plus Jogya and Bantul – all of which are great options for space-conscious homeowners looking to make the most of their rooms.
Conservatory Furniture Online & At Our Showroom
If you're looking for conservatory furniture or storage solutions, explore our online shop to see our full collections. You can see what our chairs, sofas and other products look like in our wide range of trendy and popular fabric options with our colour swatches. 
Alternatively, if you would like to see our most popular pieces in situ so you can try our storage solutions and other furniture for yourself, why not visit our stunning showroom? We're based in Dorset, so book your visit today and we look forward to welcoming you soon.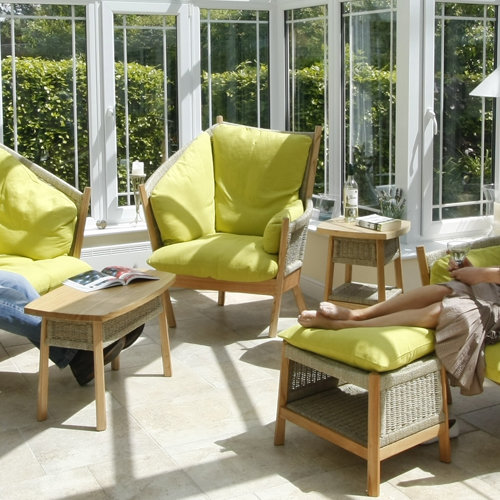 Fair Trade Furniture for Summerhouses
Here at Fair Trade Furniture, we're passionate about helping people to enjoy their summerhouses all through the year, at all times, whenever they want. Regardless of season or sunshine, sit and relax and unwind in your sheltered safe space – in the comfiest furniture you can imagine.
We offer a wide range of chairs and sofas in a range of stylish fabrics, designed as part of our 'feelgood' mantra, to let you enjoy your summerhouse to its full potential. To find out more about the ranges we offer, we welcome you to explore our website, browse our online shop and arrange a visit to our stunning showroom.
At our showroom, you'll be able to see the furniture in situ. Whether you visit us in summer or winter, you can understand exactly how versatile summerhouses are and how you enjoy them in all seasons.