Conservatory Furniture Berkshire
Discover the ideal feelgood furniture for your Berkshire home.
At Fair Trade Furniture, we create bold, brilliant conservatory furniture designs for homes in Berkshire. If you have a conservatory, it's always better when you can use it in comfort. So, with our durable, hard-wearing sofas, chairs and footstools in a range of stunning styles, we can help you do it. And, with our colour options, they'll look brilliant in your home, too.
When you choose our conservatory furniture, you'll notice we have a different approach. We work with Swedish designer Tord Kjellstrom, a conservatory furniture visionary, to provide stunning designs in Berkshire. His designs are the perfect blend of form and function, and they look fantastic. Your designs won't stain in sunlight either, making them perfect for conservatory furniture.
So, whether you have a conservatory, an orangery or a garden room, we can help you find furniture that's perfect for your home. And, as part of a partnership with Malvern Garden Buildings, you can see our range at their showroom. And, at our showroom, you can see our full range of conservatory furniture in person. Contact us today to learn more!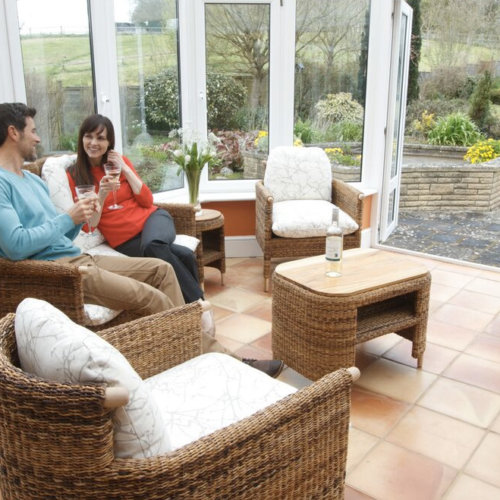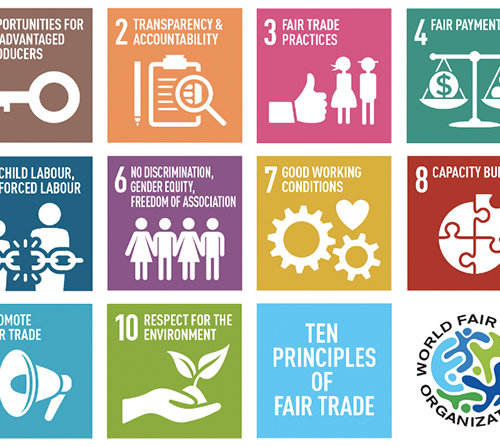 We are committed to Fair Trade throughout our whole process.
When you choose our conservatory furniture, you'll always pay a fair price. It's because we're a company committed to Fair Trade values, and they inform every decision we make. We believe that everybody in the process, from manufacturing to customers, should get fair value. It allows us to work internationally, with Swedish design and Java-based manufacturing.
Because of this, our conservatory furniture brings global design and values to your home. We're also the only conservatory furniture company in Europe independently verified by the World Fair Trade Organisation. As a result, our furniture is the product of fairness in every aspect of our process. When you invest in our furniture, you invest in people as well.
When you visit our conservatory furniture showroom or Malvern's to see our range, you'll see how our commitment to those values enhances our furniture for your home. You'll get handcrafted quality and superb design with each option. Not only that, we help you make a more sustainable, ethical investment in conservatory furniture for your home.
Explore our feelgood furniture at a showroom near you.
We're happy to work closely with Malvern Garden Buildings. Our partnership makes it easier than ever before to check out our conservatory furniture for your home in person. And, if you can't come and see us, you can still look at our designs. Our online product footprints form makes it easy to see how our conservatory furniture can fit your home in Berkshire!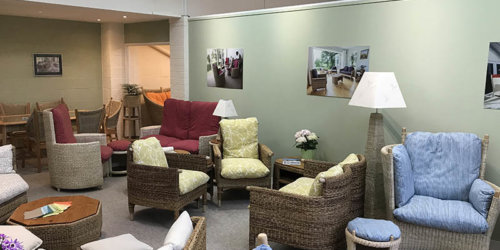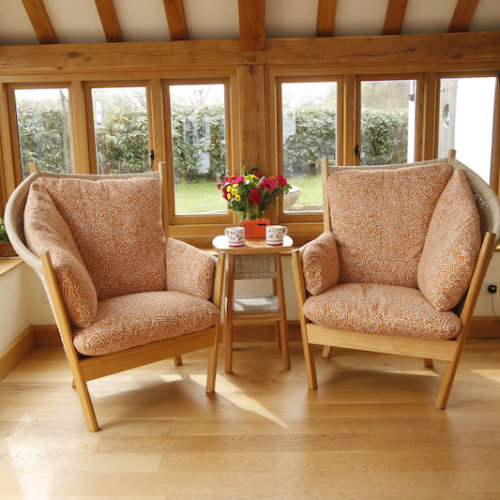 Beautifully quirky, supremely comfy.
We have several ranges of conservatory furniture to suit your home. However, our flagship collection is unmistakably the Semarang style. By choosing this collection, you'll get a quirky, customisable and bespoke set of furniture for your home. It includes sofas, chairs and footstools available in hard-wearing fabrics and colours with soft cushioning and Mindi wood seat legs and frames.
It's centrepiece is the Semarang chair, a design with one side higher than the other for more comfort and flexibility. And, with our customisable designs, you can pick the perfect colours and features for you. As a result, you can get conservatory furniture on your home's budget. And, with our Semarang Dining range, your conservatory could become a dining area!
Wrap yourself up in a cocoon of comfort.
We also offer the highly durable Jogya range of conservatory furniture for all homes. Jogya is versatile and long-lasting, with a rattan design that's strong while being light. As a result, these sofas, chairs and footstools look soft, but they don't wear down for decades. As a result, you could use this conservatory furniture outdoors in your home!
When the weather turns on you, our Jogya range won't wear down in wind and rain. And, when the sun's out, you can move the unique left and right chairs, sofas and tables to enjoy the outside world. And, with the Jogya armchair, you can bring a cocoon of comfort into your conservatory with high enveloping sides. And, with Fair Trade pricing, everyone wins!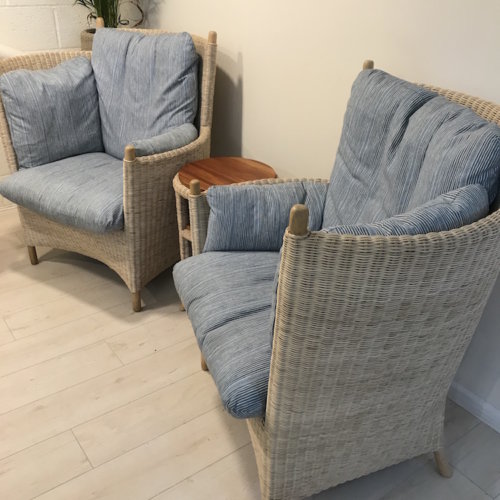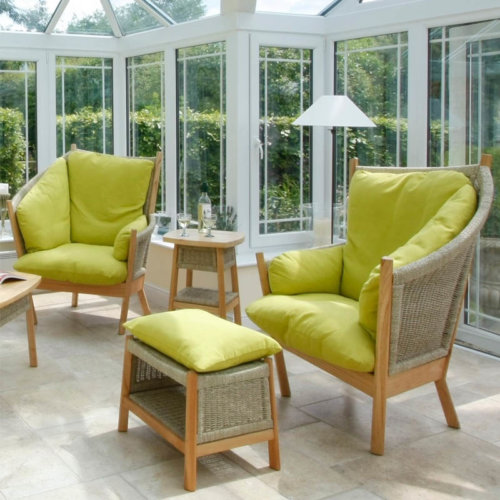 Conservatory Furniture Prices Berkshire
Feel better than ever with our truly feelgood furniture.
By choosing Fair Trade Furniture, you can invest in conservatory furniture at a fair price for your Berkshire home today. Our values are part of every service we provide, and we provide a fair service to our customers as well. Visit one of our showrooms to see our full range and choose your bespoke conservatory furniture for your Berkshire home!
You can visit us and see our designs in person at our Dorset showroom, or Malvern Garden Buildings. And, if you'd like to learn more, our friendly team are waiting to help you. Call us on 01722 340 882 to book an appointment or fill in our online form today to ask us any questions you may have.